Aces & Eights Review and Guide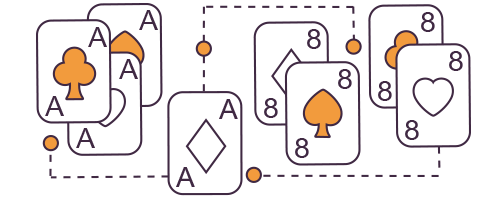 Aces and Eights is a popular video poker variation that adds a slight twist to the more common Jacks or Better version of the game. Like most types of video poker, this version features throwback graphics right out of the early 80s. The game is easy to grasp for anyone who is familiar with poker hand rankings. Playing is relatively straightforward since there are no wild cards or progressive jackpots. Wild card fans will want to try their hand at Bonus Deuces Wild.
Top 5 Australian Mobile Casinos
Learning the Basics
Like all forms of video poker, this one is played alone. Although some game guides claim that Aces and Eights pits you against a dealer, this is incorrect, your hands are judged on their own merits and you'll be paid according to the pay table. There is no dealer or house hands. With real money, it's played with a single 52-card deck meaning you'll only be able to enjoy one hand at a time.
If you've never played video poker before, Aces and Eights mobile gameplay is easy to grasp. After placing your bet, you'll receive five random cards. You'll then have the opportunity to discard anywhere between zero and five cards. After receiving your new cards, you'll be paid according to the payout table, which is typically visible as you play. A game usually takes just a few seconds, although you can obviously play at a slower pace.
A pair of jacks is the lowest qualifying hand for real money. Yet unlike standard Jacks or Better games, Aces and Eights offers better payouts if you land certain four of a kind hands, namely aces, eights, or sevens. At the same time a full house or flush pays slightly less than it does in a game of standard Jacks or Better. The actual rates depend on your choice of casino.
Cashing in on Mobile Bonuses
Like many types of video poker, Aces and Eights offers players a payout bonus on the top winning hand, provided they play the maximum number of coins. Although there aren't any progressive jackpot games at this time, you'll win 4000 coins on a five-coin royal flush bet. At the same time a four-coin bet pays just 1000 coins. Like most games, it's worth playing as many coins as possible. You can always adjust the stakes to make maximum bets more affordable.
Aces and Eights for real money offers jackpots up to 20,000 coins. The maximum jackpot is 4,000 coins when wagering five $1 coins per hand. On a maximum bet of five $5 coins, 20,000 is technically achievable, although these limits aren't available at all sites.
Our Expert Tips
Succeeding at Ace and Faces is simply a matter of knowing your odds. You can follow a strategy table to know which hands to chase depending on the cards you have. Players can choose to enable an auto-hold that will automatically keep preferred cards before the draw. You'll still be able to manually deselect cards if you want to try defying the odds.
A similar game to Aces and Eights mobile is Aces and Faces. It's also widely available at nearly every mobile casino and is popular with members of the Aces and Eights review team.
Aces & Eights for Australians
Whether you play on your tablet, mobile, or laptop, Aces and Eights is easy to find. Just visit any of the popular internet casinos powered by Microgaming software. It's easy to find fully regulated and licensed mobile casino websites that welcome Australian players. Take advantage of the competitive payouts and opportunity to enjoy games using Australian dollars.
Outstanding Mobile Casino Compatibility
Ace And Eights is compatible with all mobile devices. It doesn't matter if you have a Blackberry, iPhone, iPad, Windows Phone, Android smartphone or tablet. You'll have no trouble accessing this video poker variation anywhere in Australia. Our Aces and Eights review team had no difficulty getting the game up and running in under a minute flat. The greatest barrier is an internet connection and that's easy to find unless you're in the bush.
Claim Your Mobile Bonus Now
Play like an ace out of the gate with an exclusive $1600 deposit bonus. Whether you prefer to download an app or play instantly in your browser, you can cash in today. Discover more than 500 incredible games at Australia's most trusted mobile casino. Click the button below to claim your cash and get in the game.
These pages may also interest you