Vegas Downtown Blackjack Review and Game Guide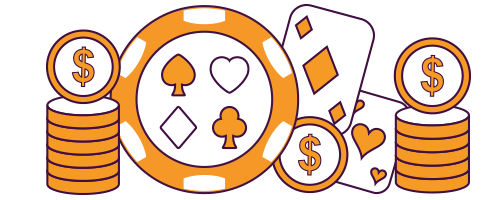 Although tourists love the mayhem and glamour of the Las Vegas strip, gambling experts will tell you that the smart money goes downtown. You'll simply find better value, a more relaxed atmosphere, and greater flexibility beyond the strip. Downtown players will even find games with better odds and house rules that can work to your advantage. Of course you don't have to head to Vegas to profit from the downtown experience. Vegas Downtown Blackjack is a fantastic version of twenty-one that's available at mobile casinos. If you love blackjack, it could be your best bet anywhere in Australia.
Top 5 Australian Mobile Casinos
Learning the Vegas Downtown Blackjack Gameplay
Like all Microgaming table games, it features elegant eye-catching graphics and graceful gameplay. Even seasoned blackjack players will find that the game captures the essence of Las Vegas. Whether you play a couple of hands or plan on spending an evening at the virtual tables, Vegas Downtown Blackjack is entirely immersive even on a small mobile device. The animations are fluid, making it is easy to whiz through the games at a rate of knots.
Although playing for real money requires some skill to master, it's simple enough for first-time players to grasp. The only downside to playing this version is that you won't be able to showcase your knowledge at casinos in Melbourne or Sydney, where the rules differ slightly.
Nevada House Rules
Like most American versions of the game, Vegas Downtown Blackjack follows hole card rules. That means that if the dealer is dealt a card with a value of 10 or an Ace, then he will peek at the next card before you make your decision about your hand.
The game uses two decks, which ultimately works to your advantage. You'll be able to double down on any two cards and can even double down after splitting. You can split paired cards up to three times to make four hands, although aces can only be split once. If you hit a ten with an ace on a split hand, this counts as 21 and not blackjack. In this case you'll be paid out at even money and not 3:2 like a true blackjack.
The minimum bet for the game is 1 chip, with the maximum being 200. Once you have placed your wager on the table, simply click deal and the cards will be dealt. Please note that actual limits may vary slightly depending on where you play.
One important thing to note is that in this version of blackjack, the dealer will hit on any soft 17, which is different to some tables where a dealer must stick if they hit any 17. Insurance is also available and will pay 2:1. Keep in mind that this bet is ill-advised by our Vegas Downtown Blackjack review team.
Custom Game Settings
Like most mobile casino table games, there isn't much to customise. Players can turn the sound on or off as well as elect for a quick deal, which cuts down the time between hands still further. Which is great if you want to maximise the number of hands you can potentially play in a short span of time.
This is a simple, fast and fun game to play that can be as cheap or as expensive to play as you like. If you are looking for a fast, reliable and enjoyable version of blackjack for your mobile, then Vegas Downtown Blackjack is an excellent choice.
Availability In Australia
You don't have to head to Las Vegas or even make the trek downtown as it's available anywhere in Australia. Just visit any of the top rated Microgaming mobile casinos to start playing. As mentioned, Vegas Downtown Blackjack is a trademarked game based on specific house rules. Yet other mobile casinos may offer similar games and odds under a different banner. Nonetheless our mobile casino reviewers can confirm that Microgaming offers the best version of this game. You can even play for real money in Australian dollars or strictly for fun.
Smartphone & Tablet Compatibility
Luckily, this game works perfectly with all popular mobile devices. It doesn't matter if you prefer using a smartphone or tablet. You should have no trouble getting in the game with any Windows Phone, iPad, Blackberry, iPhone, or Android device. Many sites offer apps on some platforms as well as the option to play directly in your web browser for maximum compatibility.
Redeeming Your Mobile Bonus Offer
Boost your bankroll with an exclusive $1600 deposit bonus. Enjoy outstanding blackjack, pokies, and more than 500 mobile casino games from the convenience of your tablet or smartphone. Claim this exclusive offer now and try Australia's leading licensed casino without wearing out your wallet. Just visit the link below to play now.
These pages may also interest you