5 Reel Drive Review and Game Guide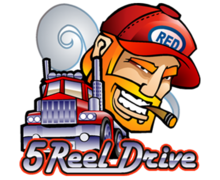 Being one of the first Microgaming 5-reel slots rolled out in 1999, 5 Reel Drive brings a wave of nostalgia with memories from the fifties and sixties. It gives you an Americana road trip feel for both new slots enthusiasts as well as for players wanting a retro feel to their online gaming experience. It features admirably simple game-play with symbols dedicated to road adventures.
This thrilling racing theme that forms the basis of the creative artwork makes the 5 Reel Drive video slot quite exciting. Get on the road with your fantasy hot-rod, pull aside for appetizing lunch breaks and race to the awesome jackpot of 5 Reel Drive.
What's Covered
In This Review
The Basics of 5 Reel Drive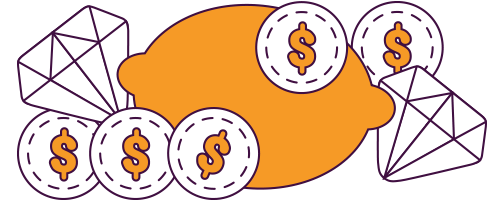 5 Reel Drive is a five-reel slot game with three rows and a total of nine active paylines. It is abundant with wild, scatter and other symbols. Based on a car theme, 5 Reel Drive features interesting cartoon symbols such as Flaming Wheel, Pink Cadillac, Red Trucker, Yellow Hot Rod, Cop Car, Road Sign, Fluffy Dice and fast food including Coffee, Doughnut, Burger, French Fries, Drink, and Blueberry Pie.
Being a quarter slot game, it offers you bets of $0.25, $0.50, $1 and $2 per line. The maximum bet on the 5 Reel Drive slot is $18 per spin, making it a perfect game for beginners or for those on a modest budget. There is a great-paying fixed jackpot of 10,000 coins when you land five Flaming Wheel symbols on an active payline. You can enjoy great returns even without any available progressive.
The Yellow Road Sign is the wild symbol which will replace all standard game symbols except the scatter symbol. However, the wild doesn't behave like a multiplier, making all the payouts based on the pay table. A scatter symbol of the Police Car gives you instant payouts without the need of an active payline. Three or more scatter symbols let you collect multipliers based on your bets.
Apart from truly American retro feeling, 5 Reel Drive has some interesting features to offer. You can use the Expert Mode feature through which you can define the reels to play five or ten spins continually. If you are interested in advanced options, you can always set your desired settings under the AutoPlay button.
Bonuses
Although you might find no free spins or bonus options in 5 Reel Drive, you can still enjoy hefty wins directly from the base game. To keep you motivated in the game, there is an exciting top payout of 10,000 coins.
5 Reel Drive may be lacking in traditional bonus features, but welcome packages should help you get some extra mileage.
A decent RTP % means that this game is always a good choice when you're playing with free spins or bonus cash.
Our Expert Tips
The highest paying symbol is the Flaming Wheel. When you get your hands on five Flaming Wheels on an active payline, enjoy a massive 10,000 coins. You can win up to an amazing $20,000 during base play when you bet $2 per payline.
With the scatter Police Car symbol, you can see a win heading your way when you get three of these to appear simultaneously on the reels. The more coin you put in, the more returns you are likely to reap.
Graphics and Sound
The 5 Reel Drive slot is clean game with appealing graphics and game icons that take you back to interstate highway driving during the fifties. The simple slots are of high quality and allow the players to focus on the real game. Accompanying the fascinating visuals is a simple soundtrack which can be adjusted with sound and volume controls. You will come across few car honks and blaring sirens throughout the game. The sound, graphics and combinations of this online slot are comparable to physical slot machines.
5 Reel Drive for Australians
Australian players can find the 5 Reel Drive online slot on regulated and licensed mobile casino websites. The popular internet casinos powered by Microgaming software allow players from Australia to access the game either on their tablet, mobile or laptop.
Mobile Casino Compatibility
Ready to play 5 Reel Drive from your mobile or tablet? Click here to discover if your device is compatible.
5 Reel Drive can be played on any smartphone or mobile device with a compatible browser in Australia. The 5 Reel Drive mobile slot offers faster, smoother and uninterrupted game play in a simple layout. Although you might not find the game action-packed, but for smartphone screens it offers uncluttered space to concentrate on your game rather than be lured away with dozens of bonus rounds.
Claim Your 5 Reel Drive Mobile Bonus
You can get an exclusive $1600 deposit bonus when you play the game either instantly in your browser or by downloading an app. With over 500 amazing games to play at Australia's most trusted mobile casino, click on the button below to start playing and cashing out.
These pages may also interest you