Top 10 Tips For Online Gambling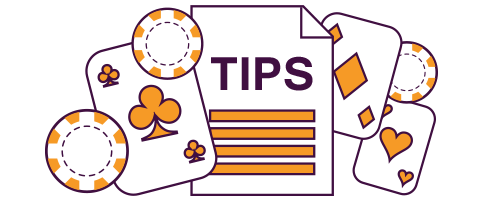 When you're gambling online, a winning strategy is extremely important. Placing clever bets, defeating the house and cashing in some major bucks are some of the aspirations of any gambler. In order to track down the finest punting advice, we've explored the deepest corners of the online gambling world. If you're interested in getting the scoop on avoiding gimmicks and making the best bets, we recommend you continue reading our tried and tested tips for winning big at online casinos.
1. Hunt Down A Great Welcome Bonus
When you are signing up to play at an online casino, your first and foremost priority should be securing the best available casino bonus. In fact, there is a high chance of you getting your hands on a bonus worth hundreds of dollars. A welcome bonus is typically awarded when a player completes the registration process and makes their first deposit.
Unfortunately, as the name suggests, it is only possible to score this category of bonus once per casino. Therefore, before going ahead with the sign-up, it is important to be sure of your choice. While every single online casino site offers a welcome bonus for a player's first-ever deposit, not all bonuses are created equally.
A variety of factors should be considered, including the size of the bonus and any criteria set as prerequisites for unlocking the bonus. It is helpful to make an informed decision after doing thorough research. Alternately, you can consult our list of online casinos that consists of handpicked sites which offer the finest bonuses available online.
2. Enjoy Safe Gameplay
Around the globe, millions of players enjoy gambling online from the comfort of home or while on the go. However, sometimes a website you are playing on might actually be scamming you. While some underhanded websites cause outright damage to your computer or mobile device through malicious files and software, others can be far more sinister.
A large portion of a player's enthusiasm for real money online gambling is actually winning and being able to cash out. Although happy to accept player's deposits, certain unreliable casinos either take an unnecessary and unreasonable amount of time before paying the player or simply refuse to pay out winnings. Paired with disappointing or impassive customer support, the ordeal can be extremely distressing.
It is also possible to encounter casinos that operate without a license or with a counterfeit license. Such casinos can and do make use of rigged software, causing gamblers to lose all their funds as games are only in favour of the operator. To avoid all frustration and stress, the best advice for all players is to gamble only at reputable and trusted online casinos.
3. Forget About Chasing Losses
As a gambler, experiencing a losing streak or even two is almost a rite of passage. On the other hand, many players endure serious hardships or severe financial ruin simply while chasing their losses, with hopes of winning back money they've actually lost. It is easy to believe that you will eventually win at some point, hence you end up spending more money and time gambling, even if your losses continue to stack up.
Regardless of your exceedingly disciplined soul, certain elements can almost have a hypnotic influence over you. For instance, if you lose more than you intended, winning one big bet can essentially erase your problem. Do not fall victim to this urge. Treat your loss as it is: a mere loss. Just say no to playing the next hand and focus on another activity.
You can also remember to follow the basic practices of expert gamblers. Before making your bet, always evaluate the risk of your losses against your impending gain. If the amount of wager makes you feel uncomfortable, you should stop right at once. Trust your gut. Learning from your losses can help you to avoid repeating major mistakes.
4. Don't Forget About The Gambler's Fallacy
Imagine standing at a crowded roulette wheel. Each of the last ten spins has resulted in a red number. The wheel is about to be spun again. What colour would you probably bet on? Black? The chance of seeing red in a row eleven times is an obvious one out of 2,048. The ball is due to land black.
If the above argument appears logical, it is in your best interest to minimize gambling for real money. Some players have a strong belief that the likelihood of an event increases on account of prior results. It is, however, an illogical idea. Each event is statistically independent. Roulette wheels, dice or decks of cards do not possess memories.
Looking for patterns in random events is straight-forward. If you lose four times in a row, you will think you're due for a win. Do not expect your luck to change simply because things are set-up against you. In reality, all games are backed by mathematical probabilities and a generally accepted house edge.
5. Choose The Right Game
Playing at an online casino has a major advantage over live casinos - a substantial variety in available games. If you're visiting a first-rate casino online, you will have access to popular games such as blackjack, pokies, video slots and many others. Both beginners and experienced players can get slightly overwhelmed on account of the choices. Even if there is no wrong choice, picking the right game can be extremely important for your success.
Each player has their own personal preference and playing a game according to one's preference can delightfully boost your entertainment by several notches. If you're interested in making your money last longer, you should pick out games with a low house edge. Blackjack, baccarat and roulette are a good option if you're slightly averse to taking huge risks.
For anyone drawn towards winning bucket-loads of money, it is best to trust the slot machine. A majority of slots offer huge jackpots that can be won simply by hitting a combination of symbols or scoring something in the bonus round. Then again, you can also choose between picking a game that is easy to learn such as roulette or keno or try honing your skills for a challenging game like Hold 'em. Remember, gambling is all about having fun. If you pick the perfect game, you can enjoy yourself and cash in some enormous prizes.
6. Pace Yourself
Gambling is a popular form of entertainment for millions worldwide. Aside from the amusement, gambling appeals to players because it offers an obvious chance to win real money. In fact, it is possible for some to earn a steady stream of income through select games such as poker or betting on sporting events. Largely, however, players gamble recreationally as a hobby. Sadly, in some cases, one can easily get carried away. Serious situations of over gambling can be avoided simply by taking regular breaks and pacing yourself.
For starters, you should take a break from gambling if you're not particularly enjoying yourself. When playing at a casino or placing a wager feels boring or monotonous, it is best to shift your focus elsewhere. Otherwise, you might be compelled to gamble more money than you plan to. If you lose, you will be miserable about wasting money, without even having proper fun.
If you find yourself steering clear of social gatherings or missing out on important get-togethers because you'd rather play fun games at the online casino, you might need to consider pausing for a while. You can certainly enjoy gambling in your spare time, but without making your social life suffer. Instead, you can shift gears and have friends over for an old-fashioned traditional poker night. You should also be aware of the previously mentioned "gambler's fallacy" and try to take a break right after winning big or being on a losing streak.
7. Learn The Regular Promotions That Apply To You
Online casino operators do not want to lose any players. Moreover they want to mostly attract new ones. Given the large number of casinos currently in existence, competition is at its peak. Each operator is invested in distinguishing itself from the other. A casino bonus is an essential element that helps create an obvious difference between two casinos. All the while, gamblers can benefit from the rivalry between operators.
In addition to a sign-up bonus or first deposit bonus, a large number of casinos offer extra bonuses on any future deposits you make. You should learn to keep tabs on the future bonuses that you can access. It is important to choose a casino that values its devoted customers and continues to offer bonuses long after they sign up.
As certain casinos offer seasonal promotions based on major sporting events or important holidays, it pays to keep up with and benefit from such promotional offers. The best online casinos also provide a "Rewards Point System" or "Loyalty Program" that rewards regular players. High rollers and extra loyal players can enjoy exclusive "VIP Schemes". Overall, such promotions can translate to free cash or bonus bets for your online casino account.
8. Stay Sober While Gambling
There are plenty of reasons why downing a drink while gambling can be exceptionally enjoyable. Still, a fine line exists when considering drinking while gambling. It is best to keep away from drinks if they can be damaging for your gaming skills. For some, alcohol can aid a tense situation involving a serious wager. Being relaxed can provide a huge beneficial boost for most players.
Self-discipline is extremely important for anyone who likes to gamble. Drinking can certainly hurt a player's faculties and abilities. Imagine being moderately drunk and logged into a serious game of blackjack. Chances are, your math skills might suddenly be inhibited. Similarly, if you're good at allotting monetary limits, having a couple of drinks might inadvertently cause you to overextend your strict gambling budget.
Playing at a physical casino is akin to being present at a great party. Crowds of people, flashing lights, lively colours and pulsing energy all add up. Drinking in such a setting feels like a great option. Nevertheless, if you're sitting by yourself and logged into an online casino, drinking and gambling should not be mixed. You are left by yourself to make better judgements and it is best to act responsibly.
9. Stick to Managing Your Bankroll
Managing your bankroll is crucial in order to keep online gambling a relatively profitable activity and to avoid making gigantic losses. A number of players enter the playing field repeatedly and burn a rapid hole through their bankroll. You want to strategically be on the opposite end of such transactions and in order to accomplish this, you need to be able to hold money in your account. Regrettably, a large number of gamblers overlook bankroll management too often.
For instance, you can decide to never commit more than 2 or 3% of your bankroll on a single outcome of a sporting event. You can always make adjustments as you see fit. Still, it ensures you have a sizable sum left behind with which you can bet quite comfortably. You can also experience a foreseeable positive streak. In the end, regardless of the number you settle for your bankroll management, you should make certain that you oblige completely.
10. Keep An Eye On Progressive Bonuses
A progressive bonus continues to increase as each player plays the game. These bonuses can be affixed to a standalone game while others can be spread out across a network. Some networks can be the property of a single, large-scale casino, others might cover a number of casinos. The progressive game pockets a small percentage of each wager, feeding into a large "jackpot". Thus enabling the jackpot prize to reach unbelievable levels.
If you manage to keep these 10 tips in mind while gambling online, you're more likely to enjoy the experience and enjoy some winnings from time to time, without consistently facing massive losses.
These pages may also interest you