Aces & Faces Review and Guide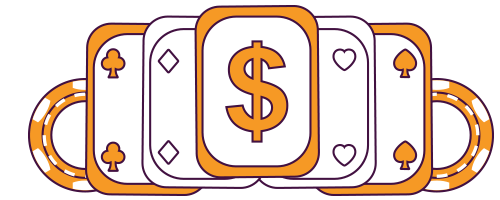 Aces and Faces is a classic video poker game that's widely available at casinos in Melbourne, Sydney, London, Las Vegas, and right on your mobile device. The game is nearly identical to Jacks or Better video poker except for the pay table. As the name implies, a quartet of aces, queens, kings, or jacks is particularly profitable. With its simple gameplay, competitive payouts, and wide availability, Aces and Faces is the face of mobile fun.
Top 5 Australian Mobile Casinos
Learning the Ropes
Aces and Faces is visually similar to all varieties of video poker. The game features graphics that harken back to the golden era of arcade games. Since Aces and Faces for real money is a solitary game, you get to set the pace, although a hand typically no more than a few seconds even if you deliberate over every hand. Unlike blackjack and other card games at mobile casinos, you are typically limited to a single hand at a time.
After placing your Aces and Faces bet, you'll receive five cards out of a shuffled 52-card deck. Players have the opportunity to keep between zero and five cards with the hope of landing the best possible 5-card hand. After you draw your replacement cards, you'll be paid if you have a qualifying hand.
Playing for Real Cash Winnings
For real money or fun, the title says it all. You'll ultimately be chasing aces and faces, which are the jacks, queens, and kings. While a royal flush continues to be top hand, you'll get better than expected payouts for four aces as well as four jacks, queens, or kings. The other qualifying hands are a straight flush, four of a kind, full house, flush, straight, three of a kind, two pair, and a matching pair of face cards or aces.
When playing for real money, the maximum jackpot is 4,000 coins. The game was designed for medium to expert players in mind. The coin size start from a low $0.01 and goes up to $2.00. The default coin size is $0.25 at most mobile casino sites.
Mobile Special Features to Enjoy
Depending on your chosen mobile casino, you may find an optional auto-hold feature. When enabled, the game will hold or highlight mathematically superior cards in the hand. It's a great way to learn and make sure you don't accidentally discard a qualifying hand.
There are no wild cards in this video poker variation. If you like video poker with wild cards try Bonus Deuces Wild.
Aces and Faces mobile poker often features a special gamble or double up feature. You can risk your recent win in a double or nothing side game. It's a great way to try winning up to 3,200 coins.
Our Expert Tips
Succeeding at Aces and Faces video poker isn't a matter of luck. You simply need to know the probabilities and tilt the odds in your favour as much as possible. When it comes to deciding which cards to discard, there's always a correct move to make. You'll obviously want to chase any likely royal flush, straight flush, or four of kind, as they pay handily even if they are elusive. On the low end, you can hold onto a lone high card or chase three of a kind if you have a low pair.
Aces & Faces in Australia
Aces and Faces poker is a casino staple that's widely available in Australia, although Microgaming and Playtech powered casinos offer the best mobile versions. You'll not only be able to play for free or using real money, but the games are offered in Australian dollars. Get ready to pledge allegiance to the queens, kings, jacks, and aces using your own currency.
Authentic Mobile Gameplay
Thanks to the game's simple graphics and gameplay, Aces and Faces works on practically every mobile device. Whether you have a smartphone or tablet, you'll have no trouble experiencing the excitement. Our review team had no trouble accessing the game on iPads, iPhones, Windows Phone, and Android powered portables. Depending on where you play, you'll be able to download a compatible app or play right in your mobile browser.
Claim Your Mobile Bonus For Extended Gameplay
Come face to face with $1600 in complimentary cash when you claim an exclusive deposit bonus. Enjoy 500 incredible games including video poker, pokies, and classic table games at Australia's number-one mobile casino. Just follow the link below to boost your bankroll and get in the game.
These pages may also interest you