Double Double Bonus Poker Review and Guide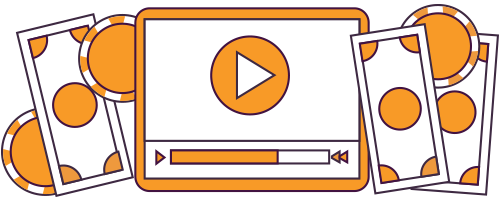 Seeing double isn't always grounds for seeking medical attention. When the name of the game is Double Double Bonus Poker, you're better off staying home and celebrating. This classic video poker variation offers unbelievable payouts on select four of a kind hands. It isn't just a great diversion from Jacks or Better, it's also available in Australia right on your mobile device.
Top 5 Australian Mobile Casinos
Try Your Hand at a Video Poker Classic
This game is a video poker variation that also goes by the name 10/6 Double Bonus Poker. No matter what you call it, the game is similar to Jacks or Better video poker but with a different pay table. The game is played using a single 52-card deck and you'll play one hand at a time.
Like all video poker games, the graphics and gameplay are right out of the early 80s. What it does lack in flash, it makes up in great gameplay and even better payouts. When playing for real money, you'll be playing alone. That means you can not only play at your own pace, but there is no competing dealer hand. Your cards will stand on their own merits and you'll be rewarded in accordance with the pay table.
The game suits medium to expert video poker players. When playing five coins, the highest jackpot value is 4,000 coins and the second highest pay is 1,000 coins. The game does not feature a progressive jackpot or wild card.
Our review team spotted a gamble feature at some sites. This feature allows players to parlay their win in a bonus game up to a maximum of 10,000 coins. Coin sizes in the game start at $0.25 and can go as high as $5. The default coin size is $1, with the default bet being five $1 coins. You can adjust these amounts when playing for real money or strictly for fun.
The game offers an auto-hold feature, which gives the player guidance over the current odds and cover permutations to help players make the right decision. The auto-hold feature can be enabled or disabled. Players can also set their own stop budgets to limit losses and protect wins.
All You Need to Know About the Gameplay
After placing your wager, you'll receive five face-up cards. You'll be able to discard anywhere between zero and five cards. Your goal is to land the best 5-card hand possible, knowing there is only one opportunity to draw. After you receive any replacement cards, you'll be paid if you have a qualifying hand.
What makes Double Double Bonus Video Poker special is the pay table. Although the royal flush is the best possible hand, paying 4000 coins on a maximum bet, even the worst four of a kind is worth as much as a straight flush. Four of a kind Aces pays 800 coins on a maximum bet. While four of a kind 2-4 and 5-K pays 400 and 250 coins respectively. The exact pay table depends on where you play. It's usually displayed prominently at the top of the screen while playing.
Our Expert Tips
Making the right move in every situation will ensure that the odds are on your side. Since the cards you draw are entirely random, your instincts are only as valuable as the knowledge that stands behind them. Although a royal flush might seem elusive, you'll want to place the maximum allowable number of coins with every bet. The top hand pays out 4000 coins, which is an extra 2750 coins more than you would expect.
Real Money Play in Australia
Wonderfully, this game is available in Australia at casinos powered by Microgaming. The game is actually trademarked, but you can find other games with similar rules and payouts under other names. The leading Microgaming casinos don't just let you play down under. You'll also be able to play for real money in Australian dollars or strictly for fun.
The Details of Mobile Gameplay
You won't need much bandwidth or processing power when playing this game. That's probably why the mobile casino game works so well on smartphones and tablets. The game is easy to navigate even on smaller screens. You'll have no trouble enjoying the game on your iPhone, iPad, Android device, or Windows Phone.
Grab Your Mobile Bonus Offer
Claim up to $1600 for free with an exclusive deposit bonus offer. Experience over 500 of the world's best mobile casino games in a safe and secure encrypted environment. Click the button below to start playing.
These pages may also interest you