Bonus Deuces Wild Review and Game Guide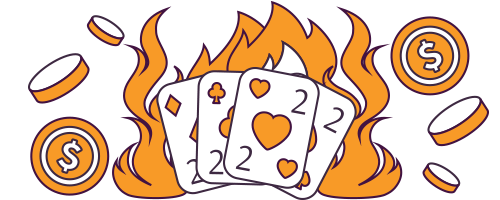 In the world of video poker, Deuces Wild is a certified classic. Beginners and seasoned poker players alike can't resist this fast-paced game that transforms lowly twos into the most versatile and coveted card in the deck. The Bonus version builds on this treasured title by improving the payouts.
Top 5 Australian Mobile Casinos
Learn the Bonus Deuces Wild Basics
It's easy to wrap your head around this game, even if you've never played video poker. As the name implies, twos are wild. Just like jokers, they can take on any value and suit.
Whenever you get one or more deuces in your final hand, the computer will automatically assign a suit and value to it to give you the highest possible payout. With features like this the player can create more winning hands.
Bonus Deuces Wild uses the standard poker hand rankings but the minimum qualifying hand is three of kind rather than a high ranking pair. Since deuces are wild, landing three of a kind, a straight, or a flush is a common occurrence. It pays to look at the overall odds when choosing a game.
Bonus Deuces Wild mobile and desktop games have a basic arcade feel. While some players may find the gameplay unsophisticated by today's standards, it's actually authentic. If you've ever played video poker at a casino in Melbourne, Sydney, or Las Vegas, then you know the retro style is part of the appeal. The screen layout is uncluttered with large, easy-to-read card graphics that are dealt with smooth animation.
Our Strategy Tips
One of the hallmarks of the Bonus game is that you'll get the best possible payout multiple only when playing the maximum number of coins. The top ranking hands is a Royal Flush and this wins 5,000 coins when you place a maximum five-coin bet. Yet players who place a single- coin bet will win 800 coins. This is precisely where the bonus comes into play, as the five-coin bet effectively nets you a 1,000-coin bonus on the royal flush bet. That's a 25% bonus. Our Bonus Deuces Wild review team recommends that you always play the maximum number of coins.
There's no need to break the bank when sticking to this time tested strategy. You can always adjust the coin denomination when playing Bonus Deuces Wild for real money. Otherwise you are better off playing standard versions of the video poker. Always compare the posted payouts when choosing a game and mobile casino.
Mobile Options You Can Enjoy
Like most video poker games, playing the Bonus version for real money features a simple design. This translates perfectly to most smartphones and tablets without issue. Even if your handset has a small screen, you'll be able to enjoy Bonus D.W at any mobile casino. Since the game doesn't require much bandwidth or processing power, you can enjoy games on nearly any device anywhere in Australia. Even if your internet connection is slow, you'll have no trouble enjoying the action of your iPhone, iPad, Windows Phone, or Android device. For even greater versatility, you can either use an app or play directly in your web browser. Wherever you play, you'll want to be certain the site welcomes Australians and the Australian dollar. Luckily there are plenty of great options that fit the bill and are fully licenced.
Cash In on the Bonus Offer
Things are about to get even wilder with an exclusive $1600 bonus on your deposit. No matter what game you play, there's no better wild card than complimentary cash. Discover over 500 thrilling pokies, video poker variations, table games, and other casino favourites. Just follow the link below to get started at Australia's finest mobile casino.
These pages may also interest you