The Best of Live Dealer Roulette for Mobile Casinos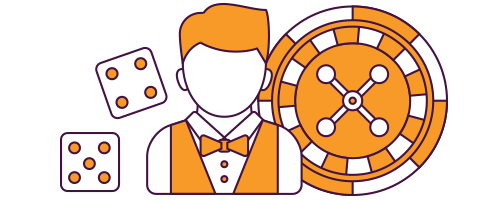 Live dealer games are making waves around the world of online gambling. Having recently been introduced to players in Australia, these games have convinced many to bid farewell to tiring trips to the Crown Casinos. With live dealer roulette, mobile casino websites have managed to capture the thrill of playing at a live casino and transformed it into a gambling event hosted directly on your mobile screen. To enjoy live dealer roulette, you only need two basic ingredients, a strong internet connection and a mobile device. If you've found an excellent mobile casino that offers live dealer roulette, you would only need to select your preferred live dealer and you can start playing immediately.
Top-rated mobile casinos with live dealer roulette games have exciting offers:
Experienced Live Dealers In A Casino Setting
A True-To-Life Exciting Roulette Experience
Outstanding Sign-Up And Deposit Bonuses
Safe And Secure Australian-Friendly Banking Options
Top 5 Australian Mobile Casinos
The ABCs of Live Dealer Roulette
If you're familiar with playing roulette at an online or mobile casino, you'll know the basics. You would require a smartphone, tablet or any mobile device to begin a round of live dealer roulette. Your initial step would be to ensure that your preferred mobile casino offers live dealer games. Indeed, a couple of mobile casino websites present a superior range of games as compared to others. Therefore, it is best to confirm the game selection before you begin playing.
After selecting the option for live dealer roulette, the website will navigate to the game's home screen. To recreate a convincing live casino environment, a human dealer is filmed while spinning an actual roulette wheel. The dealer continues his activities over a webcam, and you will be able to watch the dealer's movements through a live stream on your mobile. Hence, to avoid any video buffering, it is crucial to possess a fast and reliable internet connection.
You will find placing bets to be unbelievably easy. Most mobile casino interfaces are designed to allow you to drag your chips onto the virtual table laid out before you. Decide upon the amount you wish to wager and then simply wait for the dealer to announce the closing of bets. Next, the live dealer will energetically spin the roulette wheel and make a show of dropping the ball. All players will consequently wait with bated breath for the wheel to come to a stop. The dealer then announces the winning numbers and you might just come out lucky.
The Live Dealer Advantage for Australian Gamblers
There are numerous benefits of trying out and sticking to live dealer roulette on mobile casino websites. In fact, many serious Australian players began by testing the waters before being hooked onto the game. To begin with, with live dealer roulette, you'll never have to travel to a land-based casino. Although, we are all citizens of our glorious country, everyone does not live in a big city. Quite often, Australian gamblers find the nearest casino to be located a few hundred miles away. With long distances, it can be difficult to get some roulette action. However, now you can carry your personal casino on your mobile, wherever you choose to be. Live dealer roulette can be enjoyed on your smartphone or tablet, anytime and anywhere.
Gamblers who frequently venture into a live casino can genuinely vouch for one basic reality. In casinos bustling with action, you will have to struggle to get near the roulette table, let alone secure your place. The effort to place a wager can be extremely trying. On the other hand, if you switch to live dealer roulette on your mobile, you'll never have to worry about table space. You can be on a couch in your living room, in a chair in your break-room or standing in a bus, you'll always find room on a live dealer roulette table.
Furthermore, when playing live dealer roulette at a mobile casino, operators provide players with the option to select a live dealer on their own. Since operators have a fair idea of player preferences, choosing a dealer is actually fun. You can look forward to interacting with many charming and amiable dealers. Having been trained in a live casino, these dealers are both skilled and particularly accommodating. Certain mobile casino sites also provide a helpful chat box for communicating with your live dealer.
Discover Great Live Dealer Roulette Games
Nowadays, a large number of online and mobile casino websites are offering live dealer roulette games. What's more, with an increase in player demand, the operators are dedicated to making improvements. Everything ranging from game selection and dealers to live streams and software have been upgraded.
If you're looking for the pick of the bunch, you can consider our exclusive list of hand-picked mobile casinos. We recommend only the finest live dealer roulette mobile casinos that are happy to accept Australian players. In addition to providing a variety of methods for fund deposits and cashing out, mobile casinos on our list provide outstanding customer support.
Our reviewers have shortlisted top-quality mobile casinos that are bound to reel you in. Rather than taking our word for it, you should take a pick and go for a spin today!
These pages may also interest you