Cash Splash Review and Game Guide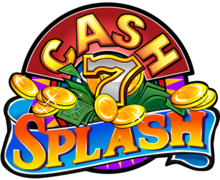 Cash Splash Review and Player Guide
The Cash Splash progressive pokies game is actually a sequel to the successful 3-reel version of the same name. This enhanced progressive game offers all the excitement of the original Cash Splash, but with more intensity and ways to win but has been elevated to a 5 reel platform with 15 paylines.Whether you're already familiar with the original version or are new to the mobile franchise, you'll love this 5-reel game that features 15 paylines.
What's Covered
In This Review
The Basics of Cash Splash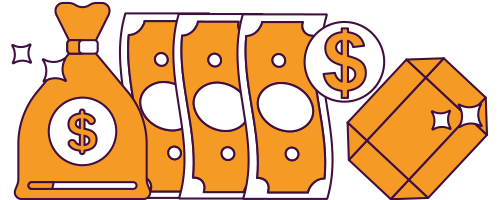 It's a relatively straightforward game that lets you wager $0.20 credits on up to 15 paylines. The game features traditional poker machine symbols like 7s, cherries, bars, A, K, Q, J, 10s, and stacks of cash. Playing is as simple as selecting the number of lines you want to play and spinning the reels.
The most important symbols in the game are the game name logo and the scatter symbol. The logo is not only wild, but you'll win the progressive jackpot if you land five of them in the 15th payline provided you've placed the maximum bet. The scatter symbol acts as a multiplier that will dramatically increase your payouts. Land three scatters for a quadruple payout, four scatters for a fifty-fold payout, and five scatters for a whopping 250-times payout.
Impressive Progressive Jackpots
What's interesting is that the 3 reel and 5 reel Cash Splash mobile games both play useto the same progressive jackpot. That means you can alternate between 3-reel and 5-reel games and still contribute to and hit the ballooning jackpot. When playing for real money, you'll find jackpots that range anywhere between $10,000 and $100,000. Those figures are more impressive when you consider that a qualifying bet is just $3 and there are other prizes up for grabs. The overall payouts depend on where you play.
Bonuses
Cash Splash keeps things simple on the gameplay front, making the progressive jackpot the main prize to go after, so by way of bonus features there really isn't anything remarkable to mention when it comes to this retro themed pokie. Unlike some contemporary pokies, which have a dedicated bonus level, or even offer up arcade style bonus mini-games, Cash Splash sticks to the pure pokies reel spinning formula. There are no free spins to qualify for, or a separate bonus mode, the action in Cash Splash all comes down to spinning those reels and hopefully landing some lucrative symbol matches.
With a fantastic progressive jackpot up for grabs, this is a great title for thrill-seekers.
Extra features, when compared with the original, mean that it's even more worthy of using a few free spins or some bonus cash to chase that jackpot.
Our Expert Tips
Like most progressive jackpot games, it's always best to place the maximum bet when playing for real money. In fact, you won't qualify to win the progressive mobile jackpot unless you wager the maximum number of coins. Can you imagine landing five Cash Splash symbols on the 15th payline and not qualifying for the progressive jackpot just because you limited your wager? Why run the risk of having a heart attack and accidentally turning your back on millions? Luckily the top bet is just three coins, which is more than manageable.
Although you'll be competing for the same progressive jackpots no matter where you play, individual casinos do have the ability to tweak the overall payouts. Always compare the payout tables and posted returns before placing your Cash Splash mobile bet. Bonuses can also affect your overall return, which vary widely across each mobile casino.
Graphics and Sound
Cash Splash is a purist pokie, so despite the latest version extending its paylines and reels, this pokie still sticks to its roots when it comes to graphics and sound effects. The symbols on the reels are all classics from the golden age of pokies, so expect to see all the retro iconography that became synonymous with pokies action. From cherry symbols, bars, and Cash Splash's own logo, to the Ace, Jack, King, Queen, and 10's you'll find in table casino card games. The colours are lurid and bright to fully support the retro nature of this vintage inspired online pokie.
Cash Splash for Australians
You'll find Cash Splash for real money available at most of the leading mobile casino sites powered by the Microgaming platform. Dozens of these mobile casinos are not only fully licenced, but also let you play in Australian dollars. Given the Australian dollar's volatility, you don't want to get stuck playing in US dollars, pounds, or euros. Converting back and forth can prove costly and is entirely avoidable. Aussie players can concentrate on winning rather than learning a hard lesson on currency trading.
Mobile Casino Compatibility
Want to play Cash Splash on your mobile? See how this pokie performs on your smartphone or tablet.
Unlike the original Cash Splash, which is usually only available on desktop devices, the 5-reel version of the game works on all the top mobile platforms. Whether you have an iPhone, iPad, Android smartphone or tablet, this mobile casino game will work flawlessly on your device. Our review team discovered that Blackberry and Windows Phone users can now get in the game too. Almost anyone can play for real money at select sites.
Claim Your Cash Splash Mobile Bonus
Make a huge splash with up to $1600 in free cash. Whether you play using your desktop or mobile, you can enjoy over 500 of the world's best casino games in a safe and secure encrypted environment. Click the button below to claim your bonus and start playing.
These pages may also interest you