Cashville Review and Game Guide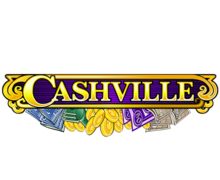 Cashville Review and Game Guide
Everybody dreams of enjoying a slice of the good life. Who doesn't want a chance to hob nob with the very rich and occasionally famous while enjoying the trappings that can only come with great wealth? Although Cashville mobile pokies won't change your life, the game lets you enter a world filled with cartoon billionaires and their riches. At minimum this cartoonish take on
La Dolce Vita is entertaining, but you could win up to 500,000 coins in this mobile casino classic.
What's Covered
In This Review
The Basics of Cashville

Although some critics have suggested that Cashville mobile looks dated, the aesthetic is part of the game's charm. The gaudiness of the characters and icons is intentional and timeless.
The first thing you'll note is the presentation of the game. There are a host of wealthy patrons of Cashville across the reels including Dane Von Deeds, the property guru and my personal favourite, the JR Ewing inspired Bill Bullion, an oil tycoon. They are joined by the wealthy art collector Betty Boodle and the man who owns more bank vaults than Fort Knox, Sir Sterling.
These affluent characters are joined on the reels by several other symbols of wealth, including bundles of cash, share certificates, jewellery and Havana cigars.
These characters play more than just a role as high symbols on the reels. We'll explain their roles a little later.
So what is it about Cashville besides the caricatures that oozes class, wealth and opulence? Well, the first thing to note is that this 5x3 reel slot offers up to 20 paylines available on each spin. The coin size can also be adjusted so you don't deplete your bankroll. You don't have to be a millionaire to enjoy the game but hitting the jackpot might get you closer to earning that title.!
Take advantage of complete flexibility when it comes to wagering. You can choose your coin denomination the number of coins to bet per payline, and how many paylines you wish to bet in total. Overall Cashville will make your bankroll last no matter how big or small it is. Play for as little as $0.01 per spin, or you can wager up to 200 coins. The choice is yours and you can adjust it over time..
Of course, these features are pretty standard across most pokies. So what is it that marks Cashville out as something a little different to the rest? The answer to this is that is it packed to bursting with features.
Wilds, Scatters, and Bonuses
A jewel-encrusted gold W acts as a wild. Unfortunately, wilds in Cashville can only take the place of the money symbols. Wilds can't take the place of the billionaire characters. The good news is that the payouts are higher to compensate for this seemingly rigid rule. Five wilds will pay 50,000 coins and landing four pays a respectable 1500. You'll even qualify for bonuses by landing two or three wilds.
Chasing wilds is part of the game when it comes to playing Cashville, and using free spins/bonus cash can be an effective part of that process.
High payouts and lots of wilds mean that, when you're playing Cashville, bonus spending or free spins can go a long way.
Our Expert Tips
A bejewelled S acts as a scatter symbol. Land three or more scatter symbols across the reels and you enter the bonus game. Again, this is a brand new feature where the player gets to choose which of the four wealthy benefactors will bequeath them some cash as a reward. Each benefactor offers the same potential level of reward in the base game and you could win up to 500,000 coins as a result.
Once you have selected your billionaire benefactor, you enter their choice of bonus game and play the reels until your spins are exhausted and you have been awarded a cash prize.
However, if your winnings fall a little below what you would expect and hope for, then don't panic as there is another feature for you to use. You can gamble any win and take a 50/50 chance of doubling your money. Of course you don't have to gamble, but if you do so, you can drastically increase the value of your win.
Cashville for Australians
Cashville is available throughout Australia at all the leading Microgaming mobile casinos. Australian players of legal age can play Cashville for real money at several award-winning mobile casinos. Whether you are new to pokies or looking for a change of pace, our Cashville review team found plenty of new features to keep beginner and intermediate slot fans chomping at the bit. The gameplay may be a little basic for more experienced slot players, but the large rewards on offer will entice even the most experienced player to give the game a try.
Mobile Casino Compatibility
Escape to Cashville in an instant when you play this popular real money pokie on smartphone or mobile tablet in 2022.
Whether you choose to play Cashville for real money or strictly for fun, you'll be able to enjoy the action on any smartphone or tablet. It makes no difference if you prefer to play using a free app or directly in your browser. You can always count on fluid gameplay on any iPhone, iPad, or Android device. Play Cashville on your mobile today and see if you can become the town's newest wealthy citizen!
Claim Your Cashville Mobile Bonus
Head straight to Cashville with an exclusive $1600 deposit bonus. Claim your free cash and discover more than 500 incredible pokies, table games, and other casino favourites. Log on now from your tablet or smartphone and experience Australia's finest licenced mobile casino. Click the button below to start playing.
These pages may also interest you