Summer Holiday Review and Game Guide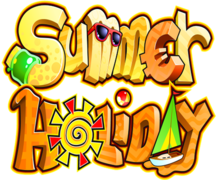 Summer Holiday Review and Game Guide
Escape from the ordinary with Summer Holiday pokies, no matter what season it happens to be. This fantastic mobile casino game delivers plenty of sunshine whether it's winter, spring, autumn, or summer. With 100 paylines, great graphics, huge jackpots, and outstanding bonus features, Summer Holiday deserves plenty of dates on your calendar.
What's Covered
In This Review
The Basics of Summer Holiday

If you are looking for a way to beat the winter blues or just want to relive sunnier days, then check out the fantastic new Summer Holiday mobile slot. This new mobile game boasts a wealth of exciting features, complete with a brand new bonus feature that crops up at the end of free spins that is a first in the mobile industry.
Summer Holiday captures the essence of the season with fitting symbols like a family bicycle ride, summertime beverages, ducks, boats, ripe fruit, delicious bread, pretzels, cold-cut meats, and cheeses.
Summer Holidays mobile pokies give you more ways to play and win. The fantastic four by five-reel slot boasts a whopping 100 paylines on every spin. When you consider that you can wager up to 10 coins on each of the paylines and control the coin denomination, the possibilities are endless. This means that you can play for as little as $1 per spin and as much as $50 per spin. The choice is not only yours, but you can play Summer Holiday for real money or entirely for fun.
Summer Holiday mobile isn't just suitable for every budget, but it's highly adaptable too. As your bankroll swells, this pokie is ready to answer the call with more substantial spins. The game evolves with your needs and is a great choice for beginners, intermediate players, or mobile casino experts.
The theme for the slots is perfectly illustrated by the symbols across the reels which include many of the typical things you would enjoy in the summer. A family bicycle ride, some ice cool drinks, a pedalo, children playing at the end of a pier, ripe fruit and delicious bread, pretzels, cold-cut meats and cheeses.
Wilds and Jackpots
The game comes to life with plenty of great features. The fun begins when you land the Summer Holiday logo, which acts as the in-game wild. Landing wilds can do more than just help you complete your paylines. You'll win a 7,500 coin jackpot by landing five wilds. Yet a pond full of ducks could net you a whopping 750,000 coins or as much as $37,500 during your free spins.
Free Spins & Bonus Features
The sitting duck acts as the in-game scatter. Land three, four or five of the ducks to automatically trigger the free spins round. Here you will receive 15, 20 or 25 free spins depending on how many scatters you landed and the great news is, that if you land the same 3, 4, or 5 ducks again across the reels in free spins, you will re-trigger even more free spins.
Your free spins will play out and every win that you have with these is subject to a 3x multiplier automatically, trebling the amount you win.
A 3x multiplier and up to 25 free spins means that Summer Holiday always has the potential to be a worthwhile title.
Using free spins or bonus cash is a great way to get to that bonus round without making too big of a dent in your bankroll.
That may sound like you are guaranteed a great win, but don't worry if things don't quite go according to plan. At the end of the free spins round, a brand new feature comes into play which offers players a unique choice in the pick-a-prize feature.
This new bonus feature allows players to accept their free spins win as it stands and continue spinning in the base game, reject the current free spins bonus and try the free spins round again, or reject the current free spins bonus and instead opt to select a mystery multiplier prize, which can be a prize of any cash amount ranging from 10x your total bet, up to 100x your total bet.
Of course, this means that you now have more choice than ever with what to do whenever you reach the end of a free spins round and gives you increased chances to maximise your winnings in this section. Make the right choices at the right time and land the right symbols and you can win up to 112,500 coins in the free spins section alone. When betting the max and factoring in all the potential bonuses, Summer Holiday's top payout is a blistering $2,250,000.
Summer Holiday for Australians
It's never been easier to take a break in Australia. Summer Holiday is available at all the leading Microgaming mobile casinos. You'll find several award-winning mobile casino sites that welcome Australian players. Enjoy the convenience of playing in Australian dollars at fully licensed and regulated sites from anywhere down under. If you are looking for some high quality mobile slot action, whatever the weather, you should consider giving Summer Holiday a chance.
Mobile Casino Compatibility
The holiday never has to end when you use your smartphone or tablet to play Summer Holiday pokies in a mobile casino in 2020.
Whether you are at work, home, or on holiday, chances are your mobile is only a metre away. That's particularly handy since a smartphone or tablet is all you need to enjoy Summer Holiday for real money. Our Summer Holiday review team found that the game worked perfectly on iPhones, iPads, Windows Phones, and Android devices. Just make sure you have an internet connection to start playing anywhere. Take advantage of free app download or launch the pokies in your web browser.
Claim Your Summer Holiday Mobile Bonus
There's no need to pack your bags or plan ahead. Take some time off and cash in right now with an exclusive $1600 deposit bonus. Discover more than 500 of the world's finest pokies, table games, and other casino favourites right on your mobile. Claim your free cash and start playing right now at Australia's most trusted fully licensed mobile casino. Follow the link below to redeem this offer.
These pages may also interest you