Tiger's Eye Review and Game Guide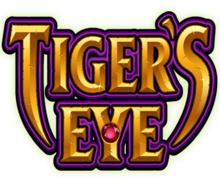 Tiger's Eye Review and Guide
Favoured by slot enthusiasts across the world, Tiger's Eye treks through the fauna and flora of a dense jungle. In addition to the wild theme, the slot celebrates the magnificence of tigers. The slot's title also alludes to infinite mythical riches, as tiger's eye is also the name of an exquisite gemstone that can range from golden to red-brown in colour. With beautifully rendered images, Tiger's Eye manages to perfectly mesmerize players. Adventurous wildlife enthusiasts should also take a shot at Lion's Pride for similar gameplay and action-packed features.
What's Covered
In This Review
The Basics of Tiger's Eye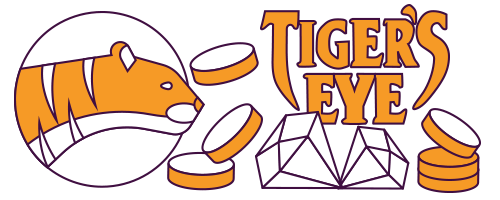 Tiger's Eye is a 5-reel and 40 payline game with a fascinating Indian jungle theme where the tiger rules. If you're familiar with slot games, the objective is simple, you just need to land a winning combination. The graphics are realistic and the gameplay is as smooth as the tiger itself. Frisky deer, radiant peacocks and high-value card symbols make an appearance on the reels. For anyone new to slots, playing a round of Tiger's Eye is relatively easy.
Once you're at the main screen, with five values displayed, you will be required to choose the total bet you desire. You can also swipe to your left and access the settings area, where you will be able to pick your preferred coins per line (max five) and decide on three available coin denominations. In this game, by default, all 40 paylines have been activated and players cannot make changes. You can swipe to your right to review the paytables and understand the payouts.
The stacked wild is the Tiger's Eye symbol and the Golden Idol symbol is the scatter, which triggers the Free Spins that feature escalating multipliers! This means, your free spins will initiate 10 free spins alongside a multiplier that increases by one per spin. A Gamble feature completes a game win round. The Gamble feature allow players to double or even quadruple wins by correctly guessing either the right card colour (black or red) to double wins, or guess the correct card suit (heart, club, spade and diamond) to quadruple wins!
Bonuses
Much like popular slot titles, Tiger's Eye does reward players with bonus features such as the Free Spins, Scatters and Stacked Wilds within the game. Although you might not pocket a life-changing fortune at the end of your game, you will probably find yourself coming back for more. After all, winning 20x or 30x your original stake is not a bad deal.
While Tiger's Eye is not currently linked to a progressive jackpot, the line payouts in this game are quite incredible. If you wager the maximum five coins per line, you can possibly collect up to 5,000 credits for landing 5 of the Tiger's Eye logo symbols on an active payline.
Since the game offers stacked wild symbols on every reel, you can land a whole screen of the golden idol symbol. With the big cat littered across the screen, you can enjoy 200,000 coins. If you manage to get a hold of the free spins, your final spin will land a 10x multiplier. This means, you could bag a wonderful 2,000,000 coins, which translate to $20,000 even if you play with 1 cent!
A huge jackpot means that this is one title that's always worth using some bonus cash or free spins on.
Landing a screen full of wilds may be a pretty rare occurrence, but it's an outcome that can be incredibly rewarding if you do get lucky.
Our Expert Tips
Winning big at Tiger's Eye can mostly be credited to a player's luck. Since slot games provide players with the lowest odds, they can be the least profitable. However, you can still follow a strategy that can increase the likelihood of you winning and to help you save the money you can otherwise lose. Play the smallest possible denomination you feel comfortable about. Try out games that do not promise large, progressive jackpots. With limited competition, slots with small jackpots such as Tiger's Eye can be easier to win.
Tiger's Eye for Australians
Whether you're a fan of playing on your laptop, smartphone or tablet, you will easily find Tiger's Eye. All you need to do is pop in at any of the first-rate online casinos that are powered by Microgaming software. There are plenty of Australian-friendly mobile casino websites that are licensed and regulated by legal gambling jurisdictions. When playing in Australian dollars, players have the opportunity to experience numerous thrilling casino games and benefit from superb payouts.
Mobile Casino Compatibility
Enjoy this 40 payline pokie from anywhere in Oz when you sign on using your smartphone or tablet to access Tiger's Eye in today's top mobile casinos.
Created by Microgaming, Tiger's Eye provides an optimal experience on all kinds of mobile devices. Regardless of the manufacturer or operating system, Tiger's Eye runs flexibly on smartphones and tablets. With rich graphics and seamless gameplay, our review team managed to access the game without running into any trouble. The game can be accessed from anywhere in Australia, as long as you possess a steady internet connection. With an inferior internet connection, it is near impossible to enjoy this splendid game.
Claim Your Tiger's Eye Mobile Bonus
Gear up for your jungle adventure with an exclusive $1,600 deposit bonus. You can either choose to play an instant browser-based version or download an app. In any case, prepare to cash in today. Explore over 500 amazing games offered by Australia's most reliable mobile casino. To claim your cash, click the button below and start gaming, now!
These pages may also interest you